There are so many gorgeous moon songs. One of them is Coyote Moon, which has haunted me for a long time now. Before the pandemic hit, I often played it at concerts, always feeling a deep musical and spiritual connection to the song. And indeed, others have felt similarly touched by it, as the following passage shows:
"'Coyote Moon' captures an ethereal yet pastoral beauty best likened to extra-terrestrial country music." – Jason Ankeny
Don't you love the phrase "extra-terrestrial country music"? This year, during an especially golden October, I felt inspired to finally record and release an intimate acoustic version of the song. I've been playing it on the piano a lot but similar to its original by the American singer-songwriter Terry Callier, I chose to keep it simple with just voice, guitar, and upright bass, enveloped in a warm tone, synonymous with the golden hues of autumn and the song's first lines:
"Summer's finally over, autumn's in the air…"
The American singer-songwriter Terry Callier (1945–2012) was a self-proclaimed "folk-jazz mystic" with a "small but fierce cult following", performing mainly in his birth city Chicago and in New York. Callier recorded the original version for his album Timepeace, which was released by the UK label Verve in 1998. Stylistically, it is typical for the genre Americana, an amalgam of folk, jazz, and blues, which makes up the musical ethos of the United States.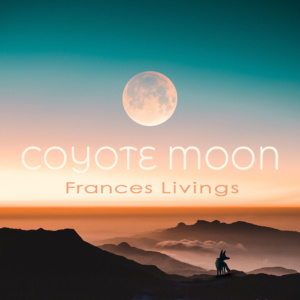 My rendition is – similar to its original – arranged in an understated acoustic way: The guitar has a transparent tone with silvery highs; the double bass supplies low realms of warmth and depth, and although the voice is embedded in a soft, golden space, giving it presence. I consciously recorded and released the song in the autumn, swapping out the line, "when the fog rolls down the mountains" with "when the fall grows down the mountain" – alluding to the sight of the slow, beautiful change of green foliage to vibrant reds, oranges, yellows, and purples.
This mood is also reflected in the sparse cover design. It depicts the softness of the golden tones of the fall and the expansive landscape, so longed for in the song and so often sung about and rejoiced in the tradition of Americana. This is exactly where I see myself situated. My rendition of this song is a tribute to the spirituality of both the moon and nature.
Moreover, Coyote Moon mirrors the styles that are also such a formative element of my very own musical journey as a singer and songwriter. It is forever accompanied by my personal spiritual aspirations, which I often perceive as embodied in the moon – as you can also read in this blog post on Mr. Moon.
P.S. Thank you for helping me choose the cover design on Facebook!