Listen to parts of the blog post here:
I was browsing through The New York Times when one article really grabbed my attention. It was on the American photographer, Francesca Woodman, whose work I had only recently discovered. Her oeuvre consists mainly of quite unusual self-portraits and one of her pictures, titled Vanishing Act had inspired me a while ago. It had actually helped me complete my song, Eating the Darkness that I recorded for my first solo album. I learned that over 120 of her works were being displayed at the prestigious Guggenheim in New York, which felt really exciting – because, in a way, it was actually quite personal.
I love art photography and can easily lose myself scouring the Internet, searching for interesting pictures and inspiration. That particular day I was compiling a collection of photos, mainly by female artists. A lot of them were in black and white, many with a surrealistic approach, and somewhat dramatic and staged effects. I didn't have any specific motifs or topics in mind but just followed my instincts and mood. I downloaded quite a few pictures, whose meaning especially struck or touched me on a very visceral level.
Collecting Inspiration From Other Artists
It was the contemporary visual artist Christian Marclay who stated, in the context of creating his video collage The Clock:
If you make something good and interesting and [are] not ridiculing someone or being offensive, the creators of the original material will like it.
Not only is Marclay a collector of images himself, but for his acclaimed installation, which is 24-hours long, he collected thousands of film and television images of clocks film clips depicting time. He created a montage of, edited together so they show the actual time.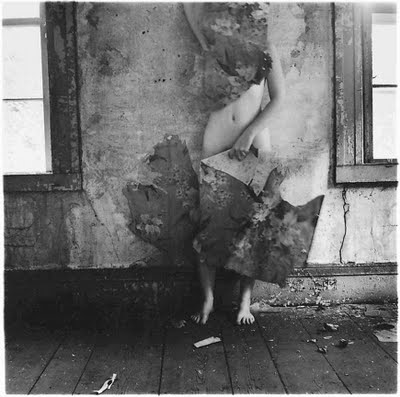 These collections of images often trigger my own creativity by directing me towards a topic – a topic that has most likely already been slumbering in my sub-conscience. Images act for me like teasers or "dream catchers" or even as surfaces for my own emotional projections. Traditionally, this is actually known as Ekphrasis, which means "description" in Greek. An ekphrastic poem, for instance, is a vivid description of a scene or, more commonly, a work of art – whereby the poet may amplify and expand its meaning. It is used to convey the deeper symbolism of the corporeal art form by means of a separate medium.
Conveying Feelings in Song Lyrics
In this particular situation, images, thoughts, and feelings must have all run together: I was both deeply touched and inspired by that photograph of Woodman. It not only helped me to get unstuck emotionally but ended up delivering a line for my song, Eating the Darkness.
I had been playing around on the piano – which is what my usual songwriting process looks like – and working on the song Eating the Darkness (click on the title to read the lyrics). I wanted to capture feelings of loneliness and despair, staged in the isolation of an apartment or a room. These are the first verses of the song:

I turn the key and stare into a
long, dark corridor
I see the furniture – untouched and cold,
the emptiness starts to unfold.

Dust has settled with no delay
upon my absence, during the day
while everything's / just frozen in its place
from when I left at twenty past eight
Like with a lot of my songs I went through a strange process: There is an initial spark, the idea or inspiration but still a lot of work to be done. Some songs practically write themselves but with others its like being in labour with pains and horrible cramps burgeoning into anxiety. But when you finally summon up that energy and determination to push, you give birth to something that almost immediately takes on a magical life of its own. If you can't activate that courage to face all of those feelings, the idea dies.
How to Convey  Feeling Invisible?
I just felt that in the chorus there was still a strong image missing, which is why I kept getting stuck. Even playing the melody over and over again wasn't helping. I felt that the song per se was strong and authentic. It had emerged very out of the depth of my guts like from a deep-sea cavern. But I wanted to explore and express a feeling of hopelessness, set in the isolation of a room. How could I convey that gnawing and devastating emotion of not feeling relevant, of feeling invisible? Suddenly this photograph entered my mind. It just presented itself. So I opened up my laptop and fished it out of my pictures folder.
The photograph, Vanishing Act from 1976, partially shows the torso of a nude standing on broken, wooden floorboards, in front of the wall of an obviously derelict building. The anonymous, faceless woman is half-covering her body with large sections of the peeling wallpaper – with which she seems to be almost merging. 
"Fading into the wallpaper", I thought. And suddenly the chorus was complete:
And I sit here eating the darkness
and the darkness eats at me
I am fading into the wallpaper
on the second floor apartment number two-o-three
Who Is Francesca Woodman?
Prior to finding that photograph I hadn't heard of the artist Francesca Woodman before. Of course, her name, derived from the same source as mine, caught my attention. But it was after having completed the song lyrics that I suddenly wondered, where and in which stage of her life would I find her? I set out to contact her. Not only did I want to thank her for the inspiration but I also wanted to share my work once the song was recorded…
It only took a few seconds on Google and I was staring at the ugly word – suicide.
Unexpectedly, I just hit the wall. No pun intended.
Suicide is usually the result of deep and dark depression, of being in a place of utter hopelessness. Maybe my highly sensitive side, also my dark side had intuitively picked up on the tragedy of her death through that very picture. Was that why ultimately, my writing had become fluent again? At the same time, questions started rolling in…
Had she perhaps felt that she had exhausted her artistic reservoir with nothing left to say? Had she lived "too fast"? Was she able to channel these feelings so well, because she also suffered in such an intense way? Was this why the photograph had had such a deep impact on me?
But did I really want to speculate about her reason to end her life?
No. I decided to distance myself. I suddenly felt eerily close, almost intrusive upon her life, like a voyeur. So I refocused on my song and recorded it.
Images Full of Self-expression, Texture, and Sense of Composition
I didn't go back to look at more of Woodman's work until weeks later. A lot of it I still hadn't seen and I was still very curious about it. What I really appreciate about her photographs is her self-expression, the use of textural elements, and her sense of composition. Her open and almost Victorian sense of Romanticism may be "girlish" as some critics say, but it is also very self-exposing. Some of the pictures are in a square vintage style format, reminding me of Instagram. I find many of Woodman's pictures playful as well as incredibly mature. To think that, at 22, she left an extensive catalogue of over 800 photographs behind is admirable.
For decades, photography was still thought to fall below painting in the hierarchy of mediums in art. It wasn't accepted as fine art until the 1940s in the United States and the 1960s worldwide. But especially for women artists, it was an important medium because it granted a mode that was relatively free from the heavy, male-dominated history of the painted canvas.
There's an anecdote that Woodman was asked by a friend, why she obsessively photographed herself. Her friend may have found it oddly narcissistic and simply still unusual. Because we mustn't forget that Woodman created all of these self-portraits in the mid and late seventies – so long before the selfie developed as a medium of self-reflection and self-representation. Woodman replied, simply saying:
I am always available.
Woodman exclusively used herself as a model, which made me think of other female photographers, especially of another American photographer and filmmaker: Cindy Sherman. Sherman's work consists primarily of photographic self-portraits, in many different settings, with wigs, make-up, and props to create various imagined female characters. Another famous self-portraitist is Vivian Maier, considered the queen of street photography, who created many iconic pictures of her reflection in shop windows. There are many more of course, like Diane Arbus (1923 – 1971) who focused on an exceptionally singular demographic – the marginalized. She captured the images of dwarfs, giants, transgender people, nudists, circus performers, and many other surreal personas that captured her attention. She is often considered the Sylvia Plath (1932–1963) of photography because of her work as well as her early suicide.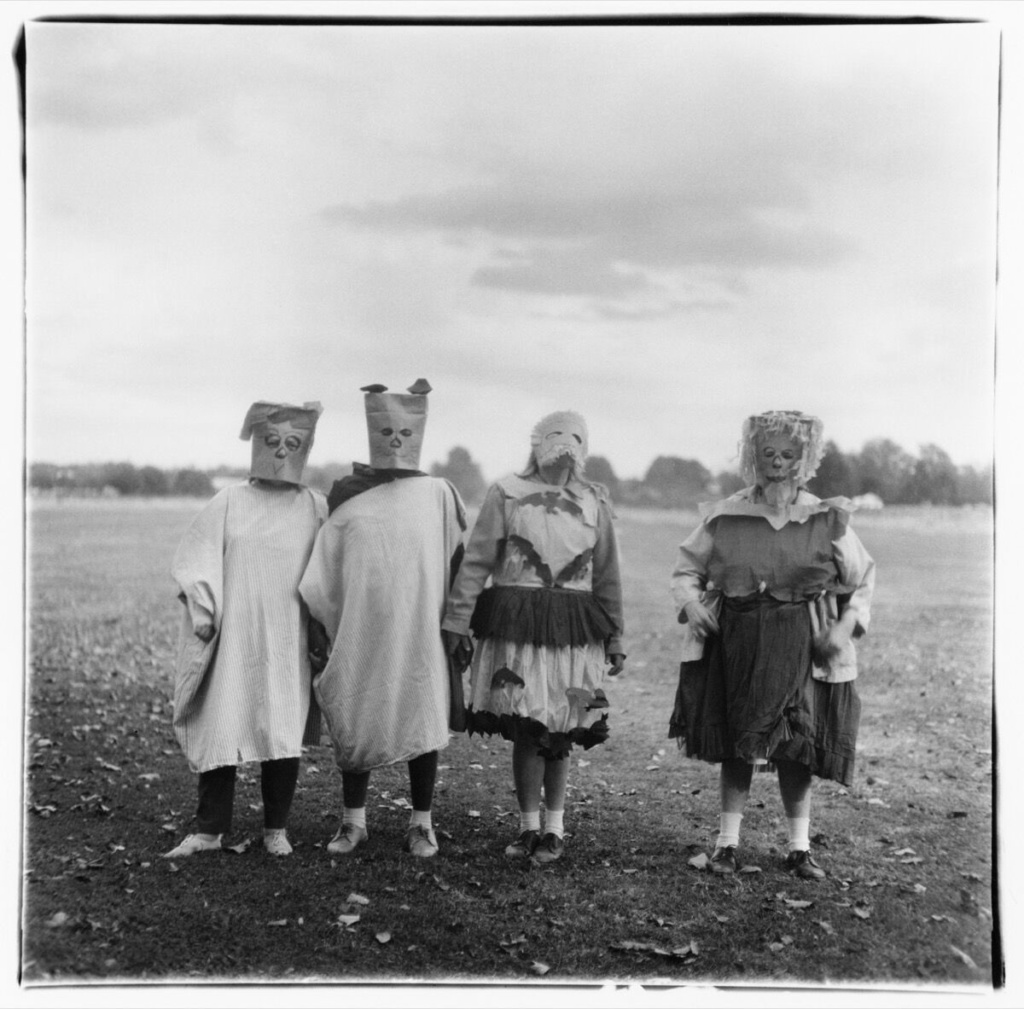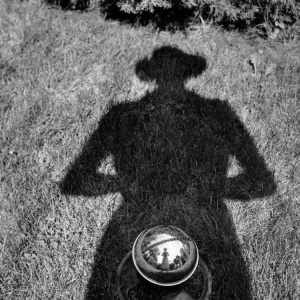 The British art historian, Frances Borzello, who specializes in the social history of art, wrote a book on female self-portraits and female nudes. It is titled Seeing Ourselves: Women's Self Portraits. I found it most relevant, that she notes: The singular importance of this particular genre, the self-portrait is for women a "way to present a story about herself for public consumption," a rare break from the typical objectification of the female form as depicted by the male artist.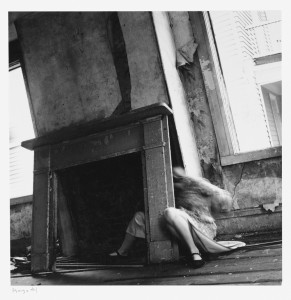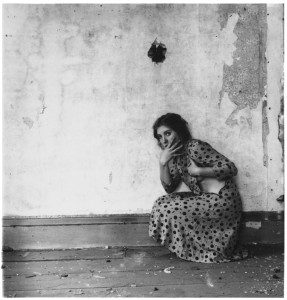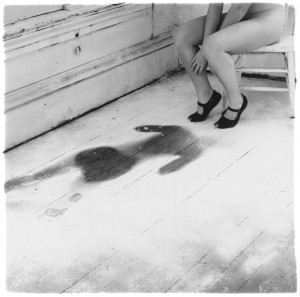 Eating the Darkness. Desolate & Abandoned Interiors
What strikes me most is the textural quality of the settings, in which Woodman stages her photographs. Frequently, the interiors are empty, decaying rooms, with peeling wallpaper, cracked plaster, broken floorboards, and flaking paintwork. In their roughness, they are diametrically opposed to the smoothness of her young and flawless body. On the other hand, in many of her photographs, she seems to merge with her environment, which gives them a haunting quality.
The photographer, Victoria O'Rourke had similar thoughts about Woodman's integration and depiction of wallpaper:
The wallpaper also puts the identity of Woodman in a state of flux in two ways – by physically hiding her and by forcing into your mind the very literal and paradigmatic image of a second skin. It joins neatly with the idea of a shifting identity, rather than Woodman presenting herself as a whole. She transforms before us, not into another human being or character, but simply into the wall. ~ Victoria O'Rourke, photographer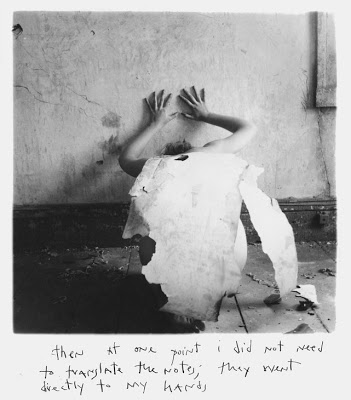 These rooms look desolate and possess a strong notion of abandonment. They are very similar to the atmosphere of space I wanted to create in my song without using lengthy descriptions.
Wandering rooms like in quarantine

I'm starring at the clock, on elasticated time


brain waves flickering, mercury mind


like a black'n white TV in 1969

Losing my mind, losing my mind…
"Losing my mind…" maybe we are all afraid of that sometimes, which is exactly why I had distanced myself from the artist after the initial encounter. I had peeped in but knew I had to protect myself and very quickly slam the book shut again. After learning about her suicide, it was painful to see her pale and vulnerable body in contrast with the diminishing interior. Moreover, it was a fearless easiness and eagerness; revealing a form of self-exploration, that stood out against the derelict environment.
But another sensation that arose much later was gratitude. Suddenly, I felt fortunate that I had connected with this picture – and ultimately, with another creative force through my own art. The connection wasn't formed through a biographical prism – or even the dramatic notion of an artist's suicide. Because it can sometimes be difficult to push past layers of fragmented knowledge and prejudice, a sense of sensationalism even… especially in an era of information overload, or fake news, and constant accessibility per Dr. Google.
Only when "absorbing" art in an almost meditative state, is it possible to retrieve what lies beneath these layers and connect with our own authentic thoughts and feelings. – Frances Livings
This is exactly what I feel she did in her work. She tried to expose herself and be literally, as naked as possible. We will never know whether this specific image, the wallpaper was created to express a loss of self-worth. That may have been what I personally projected onto it. I am grateful that a fellow artist gave me something to connect with, almost like a piece of her soul. Because isn't that what every person who creates seeks to achieve? We want to touch or inspire someone and almost live on through our work. Francesca Woodman definitely hasn't faded into the wallpaper. And I am fighting not to either…
Thank you for reading!
You are welcome to share any thoughts in the comment box below.
– Frances Livings
Buy your copy of Eating The Darkness here:
If you found joy or inspiration in this post  
Watch The Documentary The Woodmans here: