Songwriting about something painful can be cathartic but it also means revisiting pain. After the initial spark for the song When Love Falls Apart, it felt odd, even paradoxical, to want to write something beautiful about something so sad. Which is, however, ultimately, what melancholy is all about and that was the core emotion I wanted to express. After all, When Love Falls apart is about a break-up, which was very difficult and painful at the time. To this date, the song is still very emotional for me to sing. It can be like being transported back in time. So writing the song became quite a process.
A poet is a nightingale who sits in darkness and sings to cheer its own solitude with sweet sounds.  ― Percy Bysshe Shelley
How Co-writing Can Be A Way To Unburden Pain
I had almost completed the lyrics. I had a hook and was pleased with my melody for the chorus. But the verses were still incomplete. I was obviously procrastinating, trying to avoid getting in too deep. That's exactly why I needed some support, some structure to build on. I needed to unburden myself from some of the pain. So I asked the classical guitarist and jazz composer Greg Porée for help.
Greg came up with some lovely additional chords. So using them as a base to lean upon, I wrote the rest of the melody. Rather, it then just wrote itself. Suddenly, the song was finished. Ironically, however, the song marked both an end and a beginning: "When Love Falls Apart" was the very first song Greg and I wrote together.
The next step was therefore to notate everything in a chart. Here's a copy of the original:
The Magic of Handwritten Charts
Handwritten charts are per se something very personal and are frequently of sentimental value for songwriters. I always keep an original, handwritten manuscript of all of my songs, whether it's one by a co-writer or one of my own. It's like keeping a baby picture of your child although it's already grown up. For me, a song has "grown up" when it has been professionally recorded. Once the song is on Spotify or iTunes that kid has basically moved out and has started a life of its own.
Collections of Music Scores and Charts
If you're interested in music notation, I found a lovely visual collection of other composers' music scores. The Morgan Library & Museum in New York houses one of the finest collections of music manuscripts in the United States. In addition to a large collection of musicians' letters and first editions of scores and librettos, its collection of manuscripts (by classical composers like Mahler, Brahms, Chopin, Debussy, Mozart, Schubert, and Richard Strauss) spans six centuries and many countries.
There are many other archives and libraries with collections of original scores worldwide but also some that have been scanned digitally and are available online.
Hand-writing music has been a tradition in jazz for many, many years. With Finale, a powerful and involved music notation software, a handwritten look using special fonts can even be emulated! Have a look at this article, which explains the principle.
Recording When Love Falls Apart
But I digressed slightly. The next step was to record the track as a demo, with voice and guitar. That's where I kind of left it. It wasn't until playing an unplugged show at the famous singer-songwriter venue Genghis Cohen in Los Angeles, that I felt I needed to also release it. Maybe because that evening, accompanying me on classical guitar, was my co-writer. We performed the ballad for the first time live.
The way the song came to life and people connected to it, motivated me to record it as a single to just "get it out there". Although I was already working on songs for my solo album it just felt right to release that version as a single – just with voice and classical guitar.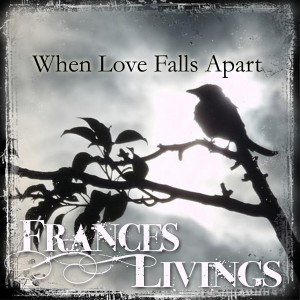 After recording it in the studio, I started designing the cover. I felt very much inspired by a very tender and touching quote by Virginia Woolf.
"The melancholy river bears us on. When the moon comes through the trailing willow boughs, I see your face, I hear your voice and the bird singing as we pass the osier bed. What are you whispering? Sorrow, sorrow. Joy, joy. Woven together, like reeds in moonlight." – Virginia Woolf
Melancholy is one theme that runs rampant through her writing. Her image of a singing bird amidst a moonscape depicts this pensive emotion so well. It is interwoven with both sorrow and joy, profoundness and beauty – which is exactly what I had attempted to create in the song.
My ballad "When Love Falls Apart" grew out of exactly these feelings of deep sadness, which via beauty, gave way to melancholy.
I am my heart's undertaker. Daily I go and retrieve its tattered remains, place them delicately into its little coffin, and bury it in the depths of my memory, only to have to do it all again tomorrow."
— Emilie Autumn (The Asylum for Wayward Victorian Girls)
Purchase an mp3 of When Love Falls Apart here:
Listen to the Song in this Playlist on Spotify:
Donating = Loving
You can purchase my music and spoken word – which I hope you will. If you find joy and inspiration in my words, would you like to provide additional support? Please be lovely and consider a donation of your choosing – from anywhere between a coffee and a nice dinner. I will deeply appreciate it.
Or, why not