One afternoon, on one of my frequent outings to the Galerie der Gegenwart (gallery of contemporary art) in Hamburg, I found myself transfixed by eight very unusual portrait photographs. Individually depicted were seven cuddly toys. Their stitched-on fabric or glass button eyes, some loose and lopsided, seemed to be starring at me, wanting urgently to capture my attention. One photograph however, was of a stern looking younger man who I assumed, was of the artist himself. The portraits were all displayed in a very simple frame and hung as a group in two rows of four. They looked like mug shots.
That was in the mid nineties when I was a junior student of art history and first discovered the work of the contemporary American artist Mike Kelley and immediately, it clicked. I didn't know anything about his background, but again and again I couldn't help thinking about these colour photographs, which soon found their way into music culture when Kelley created the artwork for Sonic Youth's 1992 album Dirty, using Ant Man's "portrait" on the album cover. In addition to being a renowned visual artist, Kelley was also a musician. He was a founding member of the proto-punk Detroit band Destroy All Monsters, who earned a cult following with their experimental performance art. By the 1990's his art career was blooming.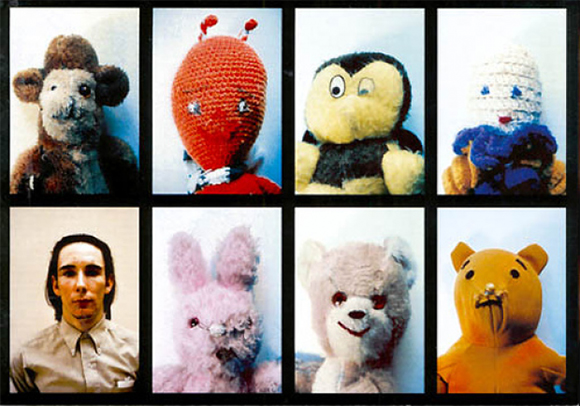 On a cursory glance, the ensemble looked like an advertising campaign for an innocent and happy childhood. But it conjured up a completely different meaning: The features of its relicts, the stuffed animals, were stiff and unhappy looking. These were tatty creatures with dirty, worn and clumped fur, limp limbs and a blank stare. They were after all, visual tokens of having been thrown, kicked, punched, spat, cried and vomited upon. In the presence of a male adult however, they seemed to stand for a collective memory of child abuse and therefore seemed to almost immediately epitomize trauma. Were Ant Man, Teddy and Rabbit physical witnesses to something horrible that was inflicted upon them? Or did they stand – their images physically enclosed and kept in tyrannical order by a strict, linear picture frame – for something that was kept secret within the walls of a children's nursery?
On the other hand, these individual portraits were like a collection of mug shots depicting cuddly toys more like perpetrators on the stand. From that perspective they seemed to suddenly stand for shame and guilt but how could stuffed animals be guilty of anything? But that's exactly what was triggering and made the artwork so memorable. In society nurseries are considered to be safe, childhoods happy and parents loving – which is why ultimately, abuse is so crazy making. This is also why there are still so many moral conflicts with challenging these ideas; any notion that would disrupt these stereotypes and clichés are easier being denied, which is why at that point in my life, just intuitively, I found his work compelling and courageous.
*
My second very intense encounter with the artist wasn't until I was living in Los Angeles almost two decades later. On a fairly uneventful day, cup of coffee in hand, I was flicking through the L.A. Times when I read that he had committed suicide. I was shocked. He was only 57 and had by then established himself as an artist internationally. Online I read in further articles that only around four hours after confirmation of his death, an unofficial, makeshift memorial had started to appear in an abandoned carport, a few blocks from Kelley's home in the Farley Building in Highland Park. Built from stuffed toys, wax candles, Afghans and dried corn, mourners began replicating his assemblage More Love Hours and Wages of Sin, two paired installations Kelley had exhibited in the Whitney's 1989 Biennial. I also learned that The Mike Kelley Foundation was organizing a memorial that was to be held at his studio in Eagle Rock/Highland Park.
I felt he deserved my tribute too. He had shown courage touching upon subjects that are still – thirty years later – socially somewhat taboo. As a child you mostly have no alley when being abused or mistreated, ignored, neglected by a parent. He epitomized these complicated and highly problematic emotions.
So on one of these for Los Angeles typical, far too mild February evenings, my husband drove through dimly lit streets to Kelley's former residence. We parked on a side street lined with old gnarly oak trees, spiked with well-kept 19th century craftsman bungalows, typical for South Pasadena. Like many areas of Los Angeles, it felt very insular, especially because of the isolating pockets of dim lighting. I walked up to the main road towards the building in which the memorial was taking place. Its concrete steps led up to a very somber looking entrance where a handful of people stood, collectively nodding as if to acknowledge our arrival. I felt a slight wave of guilt wash over me for being curious in a weirdly voyeuristic way. I had never met this man and yet I was showing up at a memorial – like a grief tourist?
Approximate another 100 people and I wandered around aimlessly through this vast space, which had been, only days prior to his death, his studio. Plastic cup in hand, filled with cheap red wine, I explored a maze of small administrative looking side-rooms, watching sometimes only for minutes films that Kelley had created. The main space, his studio, where more art installations were displayed and further screenings took place, reminded me of a large airplane hangar.
I was not really interested in speculating about why precisely he killed himself. From the press I later learned that he suffered from depression – quelle surprise. Looking at his body of work, one may interpret his works of art, like described above, as a result of trauma, translated into the many quite disturbing images he produced. But I wasn't interested in asking whether this ensemble of abused looking creatures gave the observer biographical information.
Probably like a lot of other people, I asked myself, why would he end his own life? Unlike many artists he was successful and popular. Being a struggling artist myself, it actually made me a bit angry. How dare he? How selfish. I suddenly felt very strongly that every artist, whether writer, painter or musician carries a responsibility towards their creations, to ensure the future delivery of such. Without them their art will not be created and the commercial art world takes over. How can therefore someone give up on him- or herself without giving up on their art? Suicide is the conscious choice to depart from one's life. Most artists are controlling. They have to be. I know from my own work that once I envision something and have a precise idea of what and how I want to create something, I am very adamant about its execution. I will explore, search, uncover, unravel, shuffle and experiment but once I get close to what I was meant to create I don't dither or question. Interwoven with this notion is the question, where does art end and where does the artist start?